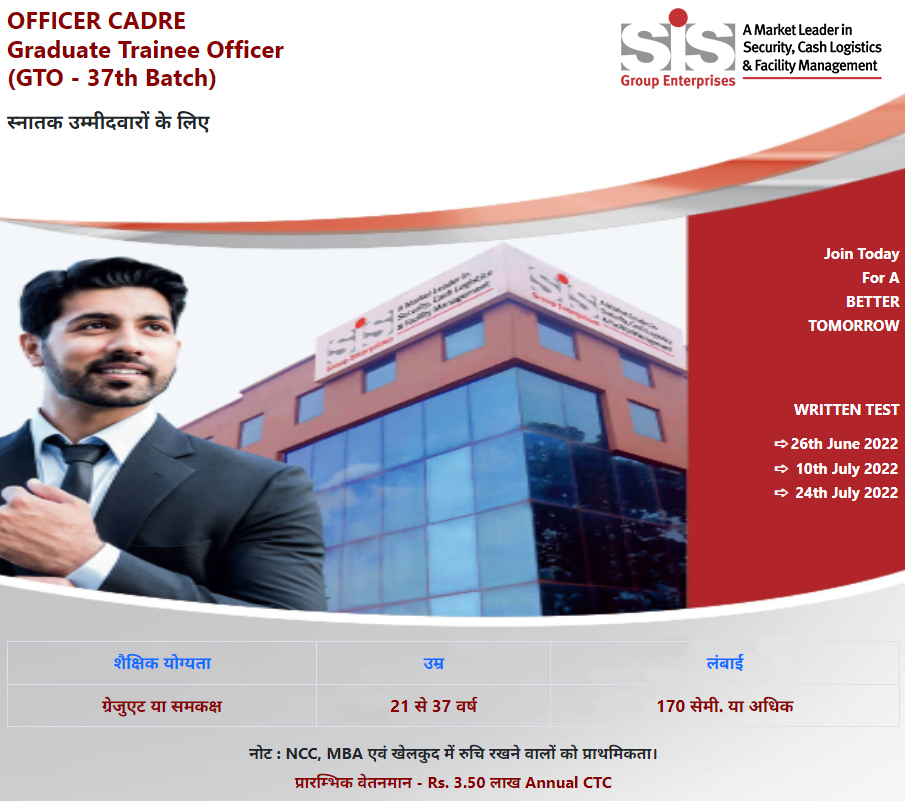 Job Description
Eligibility criteria for GTO
Education: Graduation in any stream or its equivalent
Age: 21–37 years as on 1 September, 2022
Desirable: Proficiency in English/Hindi and Basic Computer knowledge
Candidates having NCC "C" certificate and/or outstanding sports achievements will be given preference
Standard Physical Measurement: Height – 170 cm and above.
---
Why should you join SiS group?
SIS Group Enterprises comprises of 16 Companies.
SIS has been Ranked #31st by Great Place To Work among India's Best Companies to Work for.
SIS has been recognised as one of India's Best Employers among Top 15 Nation Builder Organizations.
SIS has been recognized as one of India's Best Work Places among top 5 Mega Employers Asia Pacific's largest Security Company with No.1 position in India with annual turnover more than 9000 crores.
First Indian Multinational Company in Security Sector established in 1974
First Security Company to have successfully launched IPO and registered in BSE/NSE
50,000+ Government & Corporate Sites
2.40+ Lakhs Employees
Operations in Asia Pacific Region covering India, Australia, Singapore, New Zealand and other countries
Certification & Recognition: ISO 9001: 2015, CII, CAPSI, ASIS, IISSM
PAN INDIA NETWORK – 29 States, 20 Regional Head Quarters, 360 Branch Head Quarters & 20 Training Academies
---
Career opportunity
Security industry in India is one of the fastest growing industries that has been providing opportunity to engage huge workforce every year.
SIS group recruits and trains Officer Cadre every year and provides them with a career in the group companies.
Career path of Officer Cadre is predefined and generally ranges from Assignment Manager, Operations Manager, Branch Head, Vice President, President, etc.
---
Employee benefits
Salary – Annual CTC Package starting from Rs. 3,50,000/-
Employee Provident Fund (EPF)
Employee State Insurance Corporation (ESIC)
Gratuity
ESOP – Company Shares to Long serving / Critical employees
Education Facility for Children: Indian Public School, Dehradun l Awasar Trust
Insurance & SEWA
Retirement Age: 65 years
Other Benefits: Rank promotion on regular basis | Annual Increment | Mediclaim policy for family including parents | Salary payment only through Bank Account on every 10th of the month, etc.


SIS Limited.
A-28 & 29, Okhla Industrial Area Phase-1, New Delhi-110020
Mob. : 8240539724, 8287247123
www.ssciindia.com, www.sisindia.com